I created my first quiz with Interact
I just added a Quiz to my website and I'm super excited about it! Why?
I wanted to offer a different way to interact with my website visitors and give them a fun option to assess their current "life mode"
I absolutely love taking quizzes and, if you're like me, maybe you are thinking about adding one on your website
Well, I found an amazing tool, Interact, that allows you to create quizzes in a lot of different ways for your audience. And they look great!
I think quizzes are a better way for lead generation: they help you find out more about your prospects, and they can also find out more about their personality, their desires, their goals, whatever the type of quiz is. Based on my personal experience, people are more willing to share their contact information when they take a quiz because it's fun and they get back important information or results that they can use to their advantage right away.
I just started using the Interact platform to create my first quiz and it's very user-friendly. You follow a step-by-step guide that takes you by the hand to design your brand elements, the questions, and the logic behind the questions.
This is how I designed my quiz.
I created a list of questions that are related to life-work balance, and they are part of my initial assessment. The questions range from nutrition to sleep, exercise, self-care, business workflow, time management, and happiness / creativity levels.
Once I had my questions in the order I wanted, I created a new quiz in the Interact dashboard. Interact gave me the option between a ready-made template or to start from scratch. I selected "Template" to receive some guidance. Hey, it was my first quiz! Excited, yes, but I have to admit, completely clueless about what it takes to create one 🙂
Next, I had the ability to choose the category. I chose Health & Fitness.
After selecting the category, I was asked what type of quiz I was planning to create. the choices were: Assessment, Personality, or Scored. I went with Personality.
This page explains how to choose the type of quiz that best fits your strategy.
It was now time to select the style of the assessment quiz and there were several options to choose from. I went with "Are you too busy?" because it was the closest to the set of questions I was going to use. Being busy in our daily life is not always good for our health, our productivity, our relationships, and our sanity. My quiz reveals if you are too busy, stressed out, and if you're not able to manage your time strategically (aren't you curious to take my quiz???)
Once the style was picked, I was directed to a beautiful dashboard with everything I needed to customize the quiz.
I'm a huge fan of checklists, and this colorful "Quick Menu" was an amazing tool to make sure I didn't forget important steps. From Branding & Styling (logo, colors) to Questions & Results (all the questions I wanted to incorporate and their correlations), Integration (creating an opt-in form connected to my email marketing service), and Sharing & Embed (promoting my quiz and embedding it on my website), Interact thought about EVERYTHING!
In the two screenshots above you can see the dashboard and all the options that the quiz builder offers (on the left bar) regarding the style, questions, and the correlations (basically, which answers to the questions correlate to the results that I set out).
I edited the questions based on the list that I created. I was also able to re-arrange the order of the questions if I wanted to.
Once I was ready with my first branded quiz (I felt very excited!), it was now time to promote it to my audience. Look at how many options Interact gave me! I selected the direct link to add it to my homepage, but I can't wait to use the other options for increased visibility.
I'm very satisfied with Interact and their easy process to create a quiz. I was worried that I would need days to come up with a strategy involving the type of questions, the correlation, the results. I was wrong! There's certainly room for improvement and I can't wait to work on a second quiz that will target certain areas of Life-Work Balance, so stay tuned!
Are you ready to take my quiz now? I would love for you to have some fun and find out if you enjoy life to the fullest! You can find it on my home page:
If you're thinking about adding quizzes to your lead generation tools, I strongly recommend that you check out Interact. You can start your FREE trial by clicking HERE.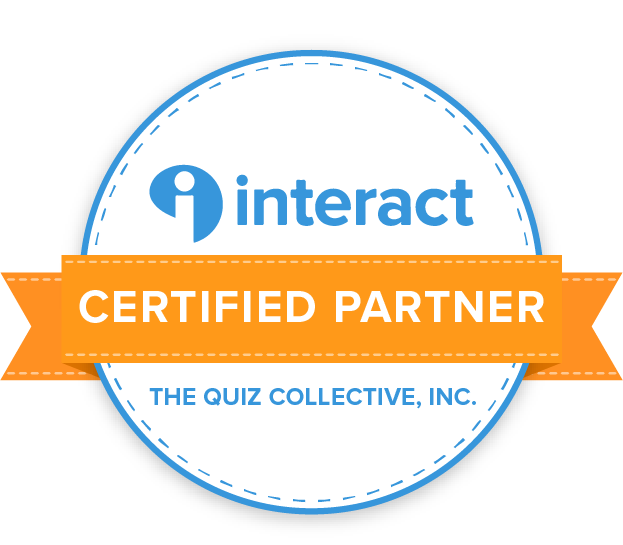 Disclaimer: This page contains affiliate links. This means I earn a small commission when you sign up for an account with Interact through my link. This, of course, comes at no additional cost to you.
As a Holistic Precision Life Coach and creator of the Life-Work Balance System, I empower ambitious professionals and high achievers like you to optimize themselves and unlock their full potential, fostering enhanced well-being and productivity in their lives and careers. I combine innovative methodologies (epigenetics, neuroscience, chronobiology, and positive psychology) to facilitate profound lifestyle transformations.